Active Attack Integrated Response Course (AAIR) (Directs, Train the Trainers and Indirect Deliveries)
Course Provider: Advanced Law Enforcement Rapid Response Training (ALERRT) Center at Texas State University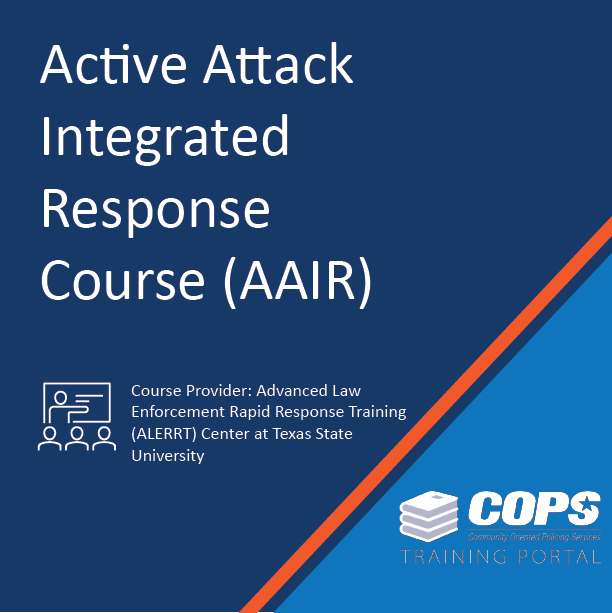 Course Description
The Active Attack Integrated Response Course (AAIR) is a 16 hour performance level direct delivery course designed to improve integration between law enforcement, fire, tele-communicator and emergency medical services (EMS) in active attack / shooter events. The course provides law enforcement officers with key medical skills based on tactical emergency casualty care (TECC) guidelines, which can be used at the point of injury (POI) to increase survivability of victims. The course also provides a model framework for law enforcement, fire, and EMS to integrate responses during an active attack / shooter event through the rescue task force concept. This course has been designed to improve the safety and survivability of victims of active attack / shooter events and increase the effectiveness, coordination, and resource integration between law enforcement, fire, tele-communications and EMS when responding to these events.

Primary Audience
Law enforcement, fire, emergency medical services, and dispatcher personnel
About Course Provider
The Advanced Law Enforcement Rapid Response Training (ALERRT) Center at Texas State University is a Texas-based partnership that was created to address the need for active shooter response training for first responders.
Schedule & Registration
Please visit this provider's website to obtain information regarding course availability, scheduling and registration.