Applied Evidence-Based Policing Practices: Homicide and Violent Crime Reduction
Course Provider: Virginia Center for Policing Innovation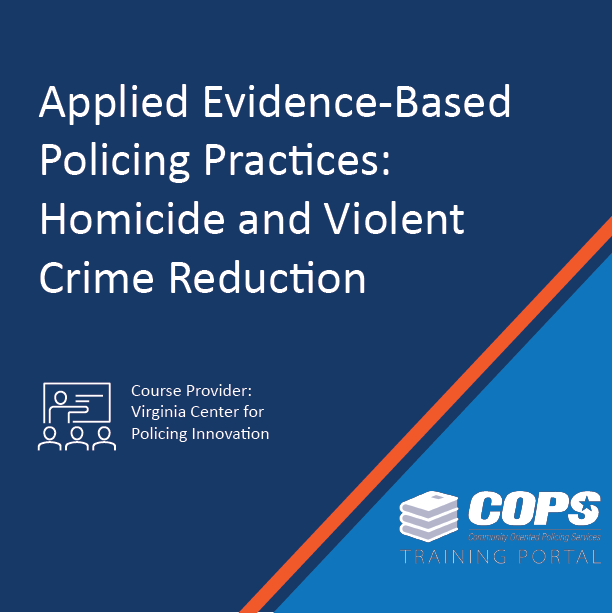 Course Description
Applied Evidence-Based Policing Practices: Homicide and Violent Crime Reduction(HVR) is a comprehensive training program which bridges the gap between research and practice for police managers and decision makers. It is designed to strengthen their capacity to effectively select and engage in evidence-based violence prevention strategies appropriate for their jurisdictions, dependent upon variables such as available resources (staffing, fiscal, time, etc.), community engagement and commitment levels, partnerships, and sustainability. The 2-day course integrates theoretical and practical foundations of crime prevention, reduction, and deterrence, focusing on current evidence-based practices, ways to implement these practices, and how research can enhance existing practices.

Primary Audience
Law enforcement managers and decision makers, including, but not limited to agency heads, directors, command staff, managers, and supervisors in agencies of all sizes.
About Course Provider
The Virginia Center for Policing Innovation (VCPI) is a nonprofit organization that provides innovative community policing training, technical assistance, and program management services to law enforcement organizations and the communities they serve throughout the United States.
Schedule & Registration
Please visit this provider's website to obtain information regarding course availability, scheduling and registration.