Bridging the Gap for First Line Supervisors: Linking Past and Present to Building Trust in Community Policing
Course Provider: The Simon Wiesenthal Center Museum of Tolerance (MOT)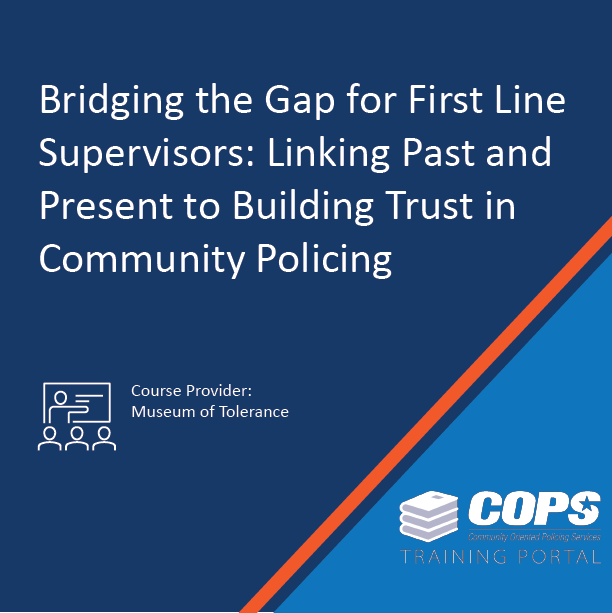 Course Description
In some agencies, perhaps more influential than command staff, are the Sergeants and other first-line supervisors. They are the key links within their own organization and their buy-in is necessary for the success of any community-based initiative. Their training needs, however, are distinct from command staff particularly in the areas of diversity and inclusion. This three-day training is designed specifically for this audience. The program takes an 'inside-out' approach by first focusing on personal biases and understanding how our history, both personal and communal, affects our work. From the personal, the contents moves towards understanding how diversity and inclusion best practices can lead to increased trust with communities, how those practices are tied to officers personal integrity and also understanding the factors that result in damaged trust. This last component is engaged through interactive, scenario-based learning and is followed by the necessary tools to implement best practices, and the action plans provided by the cohort from their jurisdiction that preceded them, by arming these supervisors with the skills needed to make their case to colleagues and subordinates and to manage challenge both within and without the organization. They are tasked with implementing the vision and this program aims to equip them.

Primary Audience
Front-line supervisors, both sworn and civilian in agencies of all sizes.
About Course Provider
The Simon Wiesenthal Center Museum of Tolerance (MOT) is a community-based organization with a long history of providing ethics-based criminal justice training for law enforcement, using the museum's high-tech, interactive exhibits as means to challenge participants to confront personal bias and promote awareness about tolerance issues, respect and human dignity.
Schedule & Registration
Please visit this provider's website to obtain information regarding course availability, scheduling and registration.