Community Policing – Improving Police Efficacy and Building Trust – Instructor Development Program
Course Provider: Virginia Center for Policing Innovation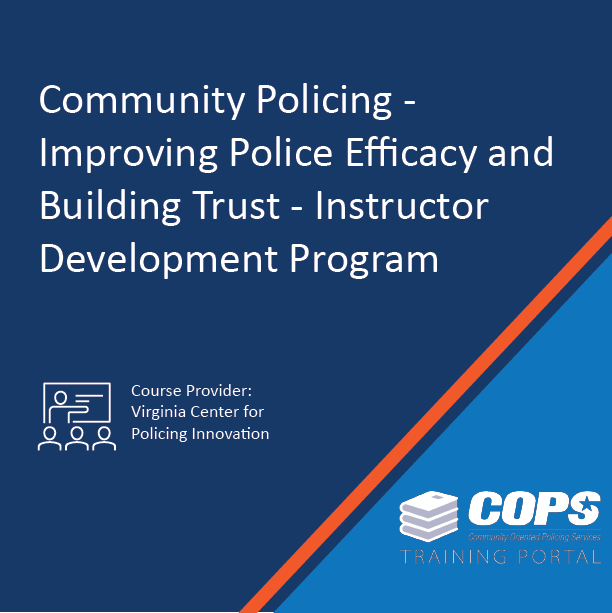 Course Description
Community Policing – Improving Police Efficacy and Building Trust is a 2.5-day instructor development program that challenges participants to consider the principles and practices of community policing as a means of building trust and achieving the public safety mission by engaging the community in the shared responsibility of effective policing. Participants examine the current state of policing, exploring and discussing issues which contribute to a cycle of dysfunction that left unchecked can have devastating long-term impacts on police practitioners, their agencies and communities. The course encourages participants to develop and employ more functional patrol techniques that increase cooperation from community members, increase efficiency in arrests and seizure activity, and decrease liability associated with complaints.

Primary Audience
Law enforcement trainers, criminal justice and public safety professionals, and appropriate stakeholders with experience instructing as well as implementing community policing initiatives. Participants receive comprehensive instructional materials, lesson plans, and resources in order to deliver the training to law enforcement practitioners and appropriate stakeholders in their locality.
About Course Provider
The Virginia Center for Policing Innovation (VCPI) is a nonprofit organization that provides innovative community policing training, technical assistance, and program management services to law enforcement organizations and the communities they serve throughout the United States.
Schedule & Registration
Please visit this provider's website to obtain information regarding course availability, scheduling and registration.