Executive Leadership Initiatives: Partnerships for Community Trust
Course Provider: The Simon Wiesenthal Center Museum of Tolerance (MOT)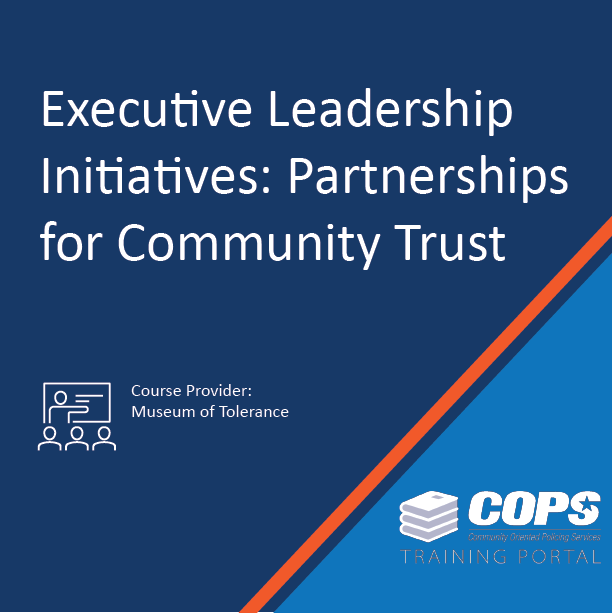 Course Description
This program brings together national command level professionals for an unprecedented opportunity to dialogue with each other and address their unique leadership challenges in Community Policing with a focus on shared humanity. Driven by participants concerns, the curriculum focuses on building trust within the organization and across diverse communities, consistent and unwavering ethics, working with multi-generational employees (Generations X, Y, Z), recruitment and retention of diverse personnel, and promoting procedural justice. The training guides Command Staff to craft appropriate responses to complex issues. In an ethics-based approach, participants explore new dimensions of leadership, and develop tools that translate theory into practice in a community engagement plan of action. Officers often wonder whether their Command Staff engage in these conversations, this is a powerful opportunity to do so.

Primary Audience
Law enforcement managers and decision makers, including, but not limited to agency heads, directors, command staff, and managers, in agencies of all sizes.
About Course Provider
The Simon Wiesenthal Center Museum of Tolerance (MOT) is a community-based organization with a long history of providing ethics-based criminal justice training for law enforcement, using the museum's high-tech, interactive exhibits as means to challenge participants to confront personal bias and promote awareness about tolerance issues, respect and human dignity.
Schedule & Registration
Please visit this provider's website to obtain information regarding course availability, scheduling and registration.