Fair and Impartial Policing Training (Recruit and Patrol Officer, First-Line Supervisor, Mid-Management, Command or Command/Community, Train-the-Trainer)
Course Provider: Fair & Impartial Policing, LLC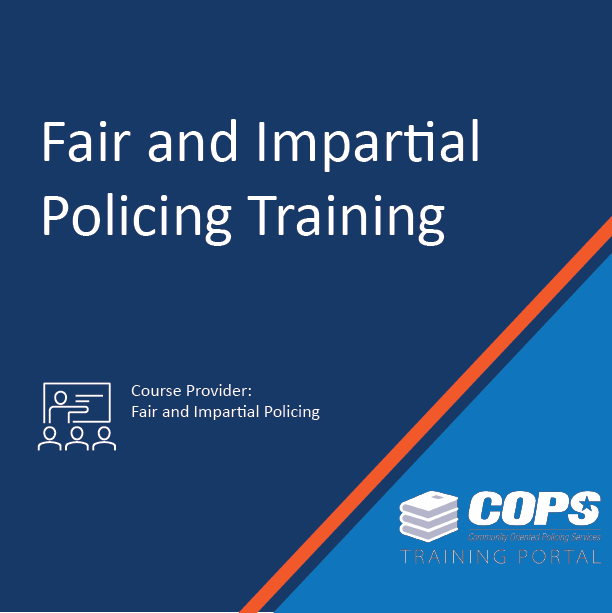 Course Description
Fair & Impartial Policing® training program will convey the science of bias and discuss the negative consequences of letting "hidden biases" impact perceptions and behavior and, most importantly, teach police professionals the skills that they need to reduce and manage their biases. Those skills will not keep them from doing their important job of crime control; instead the skills will enhance their ability to engage in that important work more safely, justly and effectively. Those skills will also further an agency's efforts to strengthen the relationship between the department and the diverse communities that it serves.
The Fair & Impartial Policing© perspective has been placed into five implicit-bias-awareness curricula. There is a 1.5-day session for command-level personnel (or a "command-community" version that involves command personnel and community stakeholders). There are separate one-day versions for patrol officers, first-line supervisors and mid managers. During the 2.5-day Training-of-Trainers (TOT) session agency trainers can learn to implement the patrol and supervisor curricula in their own agencies/academies.

Primary Audience
Law enforcement and community members
About Course Provider
Fair and Impartial Policing ®, LLC provides implicit bias awareness training for law enforcement in North America, with the goal of reducing the defensiveness around the topic.
Schedule & Registration
Please visit this provider's website to obtain information regarding course availability, scheduling and registration.