Tactical Community Policing for Homeland Security
Tactical Community Policing for Homeland Security focuses on strengthening the capacity of law enforcement agencies to implement an all-crimes approach, based on community policing principles. The fundamental premise is that terrorism and community policing are both philosophical approaches aimed at influencing civilian populations. Whereas terrorism seeks to inspire fear and coerce civilian populations into submission, community policing aims to preserve order, diminish fear, and build resilience.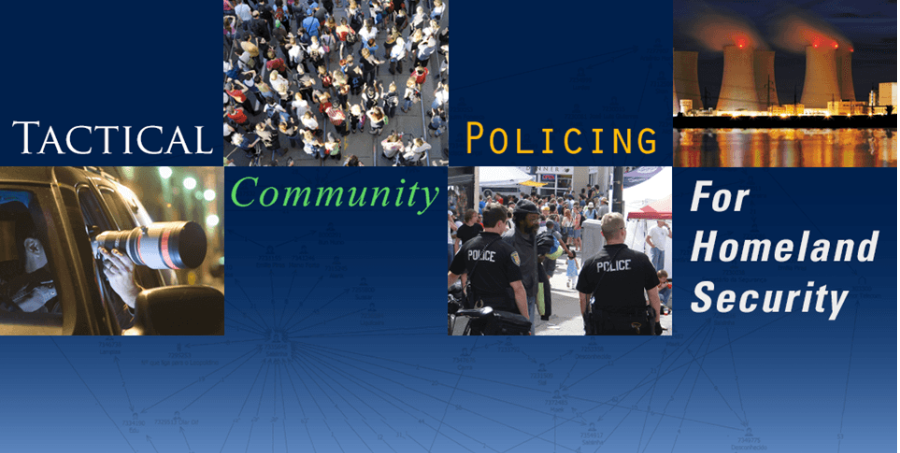 About This Course
This course is crafted as a concise and relevant eLearn course addressing the realities of policing in the 21st century. Designed with the practitioner in mind, the course includes on-screen text, videos, and narration in a user-friendly eLearn environment that allows participants to start, stop, and resume the training based on their schedules. Although it requires a minimum of 2 hours of uninterrupted run-time, participants should expect to spend approximately 4 hours completing this dynamic and timely course.
This tuition-free online training was developed by the Virginia Center for Policing Innovation (VCPI) and was originally supported by cooperative agreement 2013-CK-WX-K010 by the U.S. Department of Justice, Office of Community Oriented Policing Services (COPS).

Primary Audience
This course is ideal for all law enforcement and criminal justice professionals, as well as any community-policing stakeholders.
The Virginia Center for Policing Innovation (VCPI) is a nonprofit organization that provides innovative community policing training, technical assistance, and program management services to law enforcement organizations and the communities they serve throughout the United States.