Applied Evidence-Based Policing Practices: Homicide and Violent Crime Reduction
This course is designed as a rapid eLearn course that provides an overview of the concept of evidence-based policing and examples of practices that have been shown to reduce homicides and violent crime. Crafted with all levels of police practitioners in mind, this course bridges the gap between research and practice.
COURSE RUN TIME: 2-4 HOURS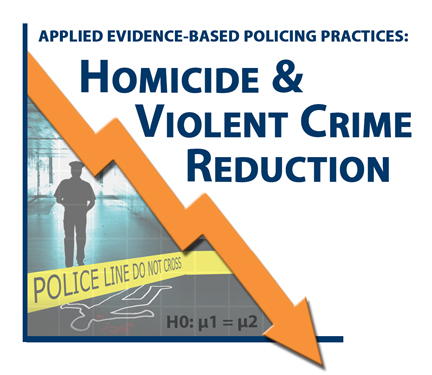 About This Course
On-screen text, videos and narration in a user-friendly eLearn environment allows participants to start, stop and resume the training based on their schedules.
Participants should expect to spend approximately 2 – 4 hours exploring the resources provided in this dynamic and timely course.
This tuition-free online training was developed by the Virginia Center for Policing Innovation (VCPI) and was originally supported by cooperative agreement 2015-CK-WX-K022 by the U.S. Department of Justice, Office of Community Oriented Policing Services (COPS).

Primary Audience
This course is ideal for law enforcement managers and decision makers, including but not limited to agency heads, directors, command staff, managers, and supervisors in agencies of all sizes. However, the content is also applicable to all law enforcement and criminal justice professionals, as well as any community-policing stakeholders.
The Virginia Center for Policing Innovation (VCPI) is a nonprofit organization that provides innovative community policing training, technical assistance, and program management services to law enforcement organizations and the communities they serve throughout the United States.