The National Association of School Resource Officers (NASRO) Basic School Resource Officer (SRO) Course
Course Provider: The National Association of School Resource Officers (NASRO)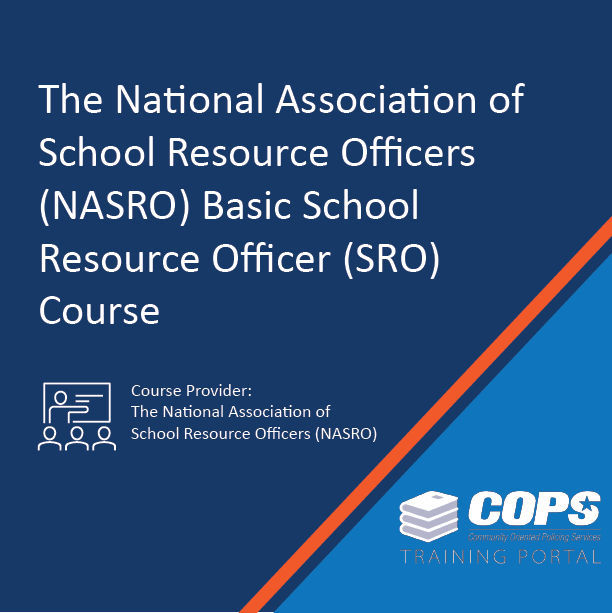 Course Description
The National Association of School Resource Officers (NASRO) Basic School Resource Officer (SRO) Course is a forty-hour (40) block of instruction designed for law enforcement officers and school safety professionals working in an educational environment with students and school administrators. The course focuses on the roles and responsibilities of SROs and law enforcement working in a school setting. The course emphasizes four main areas of instructions:
Function of Law Enforcement – Instruction on the differences between law enforcement when conducted inside a school environment including understanding the teen brain and de-escalation techniques;
Mentoring Students – Instruction designed to provide tools to be a positive role model for youth, including informal counseling techniques;
Teaching – Instruction on a variety of instructional techniques as well as classroom management tools to provide law-related education to students.
Emergency Management – Overview of comprehensive safety plans and instruction on development and implementation in coordination with school officials and first responders.

Primary Audience
SROs and Law enforcement working with students.
About Course Provider
The National Association of School Resource Officers (NASRO) is an organization for school-based law enforcement officers, school administrators, and school security/safety professionals working as partners to protect students, faculty and staff, and their school community.
Schedule & Registration
Please visit this provider's website to obtain information regarding course availability, scheduling and registration.