Advanced Roadside Impaired Driving Enforcement (ARIDE) Refresher
Advanced Roadside Impaired Driving Enforcement (ARIDE) Refresher, an eLearning course, reinforces key concepts that law enforcement officers apply to observe, identify, and articulate the signs of impairment related to drugs, alcohol, or a combination of both to reduce the number of impaired driving incidents, serious injury, and fatal crashes. The guidance provided in this course is not intended to be prescriptive; rather, it is designed to be adaptable and generally applicable to law enforcement practitioners who serve in varied communities.
COURSE LENGTH: 4 HOURS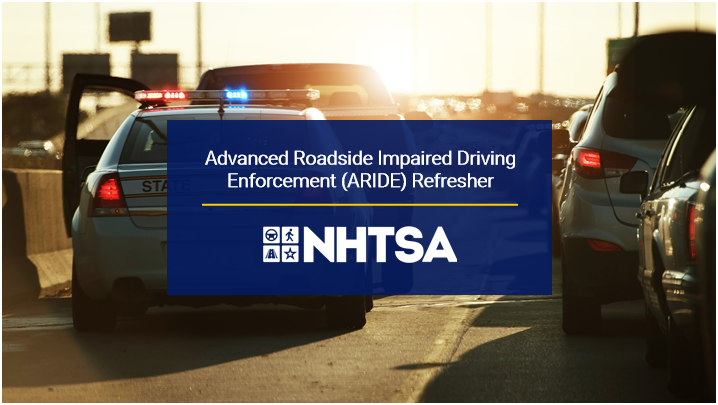 Arizona POST Approved Course
AZPOST Approval 22-385
AZPOST does not require the standard approval form for this course; however, if you would like one, please contact AZPOST directly at [email protected]
Course Overview
This course supports law enforcement practitioners in their efforts to effectively assess impaired drivers at roadside. As a refresher, the course reinforces the key concepts presented in the full, 16-hour, instructor-led ARIDE course. The design of course content supports officers in the enforcement of DWI (Driving While Impaired) offenses, especially those that may involve drug impairment. This training enhances learners' understanding of the role of the Drug Recognition Expert (DRE) and facilitates better utilization of DREs in the field. For those communities with no DREs or limited access to their services, this course helps officers make informed decisions related to testing and documentation of drug-impaired driving cases.
Target Audience
The ARIDE Refresher course is intended for those who have previously completed the full, instructor-led ARIDE course. This refresher does not replace the initial 16-hour ARIDE course; rather, it is designed to strengthen and sustain the participant's understanding of the concepts presented in that course. Like the initial ARIDE course, this refresher bridges the gap between Standardized Field Sobriety Test (SFST) courses and DRE courses, providing an enhanced level of awareness to law enforcement officers of drug impairment in the context of traffic safety. This course is not developed to act as a substitute for the Drug Evaluation and Classification (DEC) Program and will not qualify or certify an individual as a DRE.
The National Highway Traffic Safety Administration (NHTSA) is responsible for keeping people safe on America's roadways. Through enforcing vehicle performance standards and partnerships with state and local governments, NHTSA reduces deaths, injuries, and economic losses from motor vehicle crashes.