Campus Safety Training Program: Student Reunification
Campus Safety Training Program: Student Reunification is an interactive course that provides an overview of the student reunification process. It reviews the various types of situations that require reunification and key reunification terminology. Additionally, roles required for successful reunification are explored, and recommendations about training stakeholders and practicing a reunification plan are provided.
COURSE RUN TIME: 1 HOUR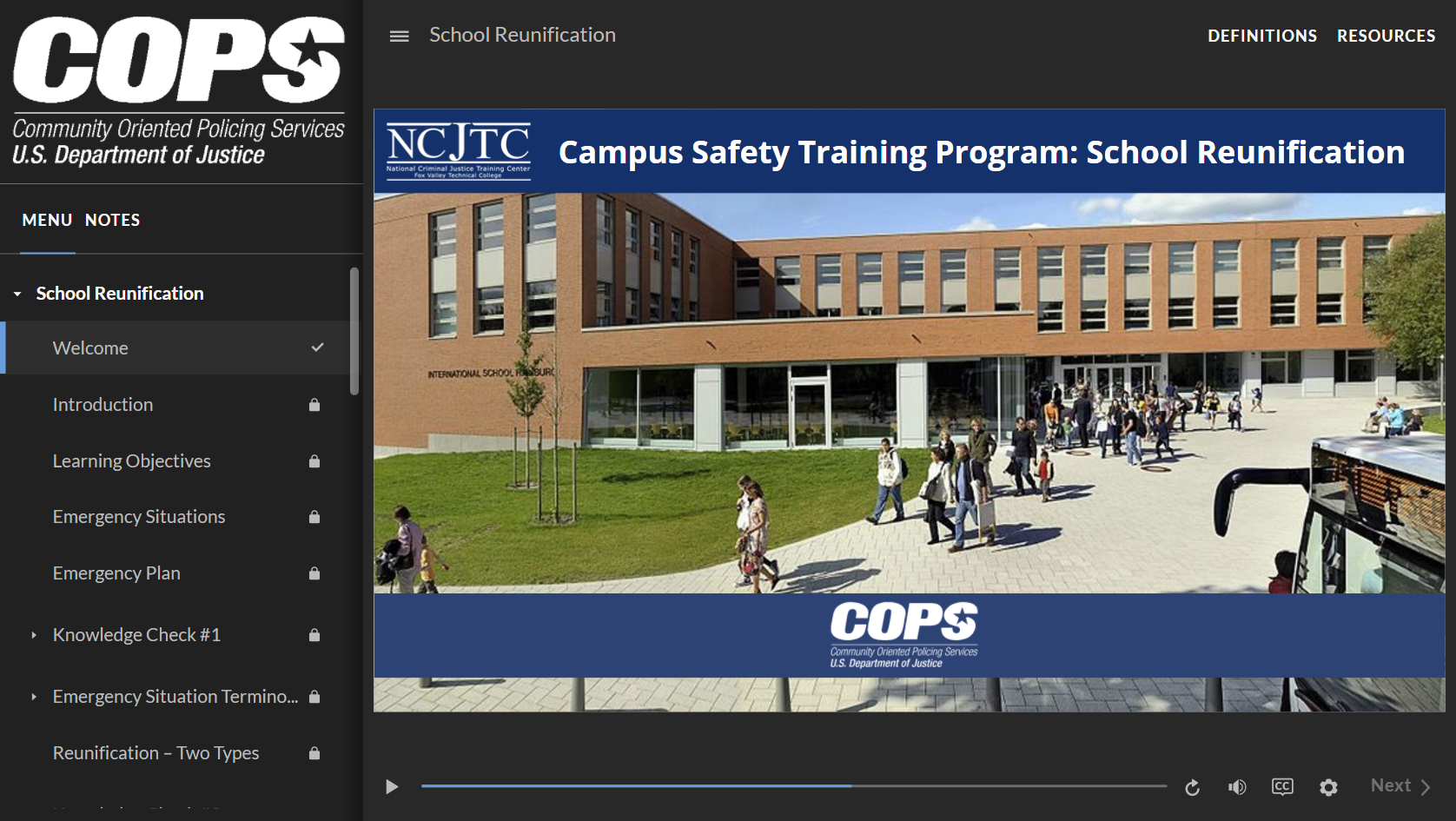 About This Course
In the United States, schools provide a safe and healthy learning environment for approximately 55 million children[1]. Schools are expected to keep children safe every day, but during traumatic events, this objective becomes the primary focus of teachers, administrators, and school staff members.
Reunification is the process of reuniting children with their parents or guardians after an emergency or disastrous event at their school. In these situations, a traditional student release process is unsafe and often lacks the necessary organization. According to the National Association of School Psychologists, the reunification of students with their primary caregivers is crucial for the reestablishment of social support after a traumatic event, and is often the only mental health crisis intervention needed[2]. A reunification plan is part of a comprehensive emergency plan to ensure the safety of the whole school community.
This training is designed to help educational stakeholders develop and implement a school reunification plan. Upon completion of this training, learners will be able to:
Identify emergency situations that require a reunification plan
Define terminology associated with a reunification plan
Define the purpose and components of a reunification plan
Determine the purpose and components of a response map, and
Identify the roles required in a reunification plan 
Participants should expect to spend approximately 1 hour reviewing the content and resources in this course.
This tuition-free online training was developed by the National Criminal Justice Training Center of Fox Valley Technical College and was originally supported by cooperative agreement 2017-CK-WX-K007 by the U.S. Department of Justice, Office of Community Oriented Policing Services.
[1] "Guide for Developing High-Quality School Emergency Operations Plans: At a Glance." REMS TA Center online. https://rems.ed.gov/K12GuideforDevelHQSchool.aspx.
[2] "Reunification Following School Evacuation: Guidelines for Administrators and Crisis Response Teams." National Association of School Psychologist (NASP) online. 2015. https://www.nasponline.org/resources-and-publications/resources/school-safety-and-crisis/reunification/reunification-guidelines-for-administrators-and-crisis-response-teams. 

Primary Audience
This course is ideal for law enforcement, school resource officers, emergency management, and K-12 administrators and educators
The National Criminal Justice Training Center of Fox Valley Technical College (NCJTC) is dedicated to equipping criminal justice professionals and service providers with the right training and tools to affect lasting and meaningful change in the communities they serve. As a leading national criminal justice training organization, we deliver quality innovative training, expert instruction, and technical assistance solutions for combating prevailing public safety and community challenges.