Public Law 280 Training Program for Enhanced Collaborative Law Enforcement
PL280 is nuanced and can have different applications in different states, thus it has resulted in confusion regarding jurisdiction in Indian Country. However, through cooperation and collaborative resource sharing, tribal and non-tribal law enforcement can work within PL280 to benefit their jurisdictions. This four-module curriculum is designed to provide participants with background information and tangible strategies necessary for effectively policing PL280 reservations.
COURSE RUN TIME: 2 HOURS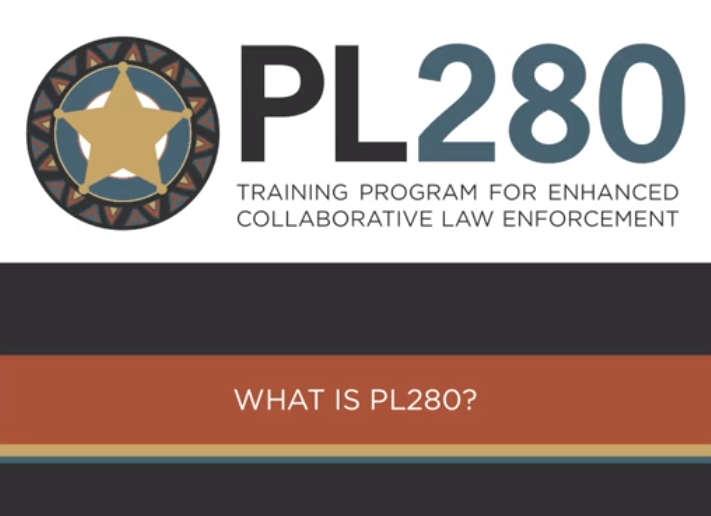 About This Course
Module 1: WHAT IS PUBLIC LAW 280?
Get to know the history of PL280, learn when tribal, state, and federal governments have jurisdiction, and understand the practical applications of PL280 in your state.
Module 2: COMMUNITY POLICING
Learn benefits and challenges to community policing and how to implement key community policing strategies in order to enhance responsiveness to the most challenging and frequently occurring crimes in PL280 jurisdictions.
Module 3: TASK FORCE DEVELOPMENT
Learn how to establish a task force, garner support for task force development, gather resources, and adapt the task force to overcome environmental and political barriers.
Module 4: SOVEREIGNTY THROUGH EFFECTIVE LAW ENFORCEMENT
Learn about the historical background of tribal governments in order to understand how sovereignty can be used to foster effective law enforcement by building capacity through regulation and tribal law.

Primary Audience
Law enforcement and tribal and non-tribal leadership state/government leadership.
Strategic Applications International (SAI) offers a variety of cutting edge services to its clients from comprehensive strategic planning to government relations.