The Call: Serving Those with Behavioral and Cognitive Disabilities
The Call is a video-based simulation in which learners assume the roles of three different law enforcement officers in an interactive movie, make decisions for these officers and experience the consequences of their choices.  The program trains officers on best practices for the recognition and response to incidents involving civilians with mental illness.  Topics covered include properly assessing the situation, effective communication techniques, active listening, de-escalation and crisis intervention.
COURSE RUN TIME: 1 HOUR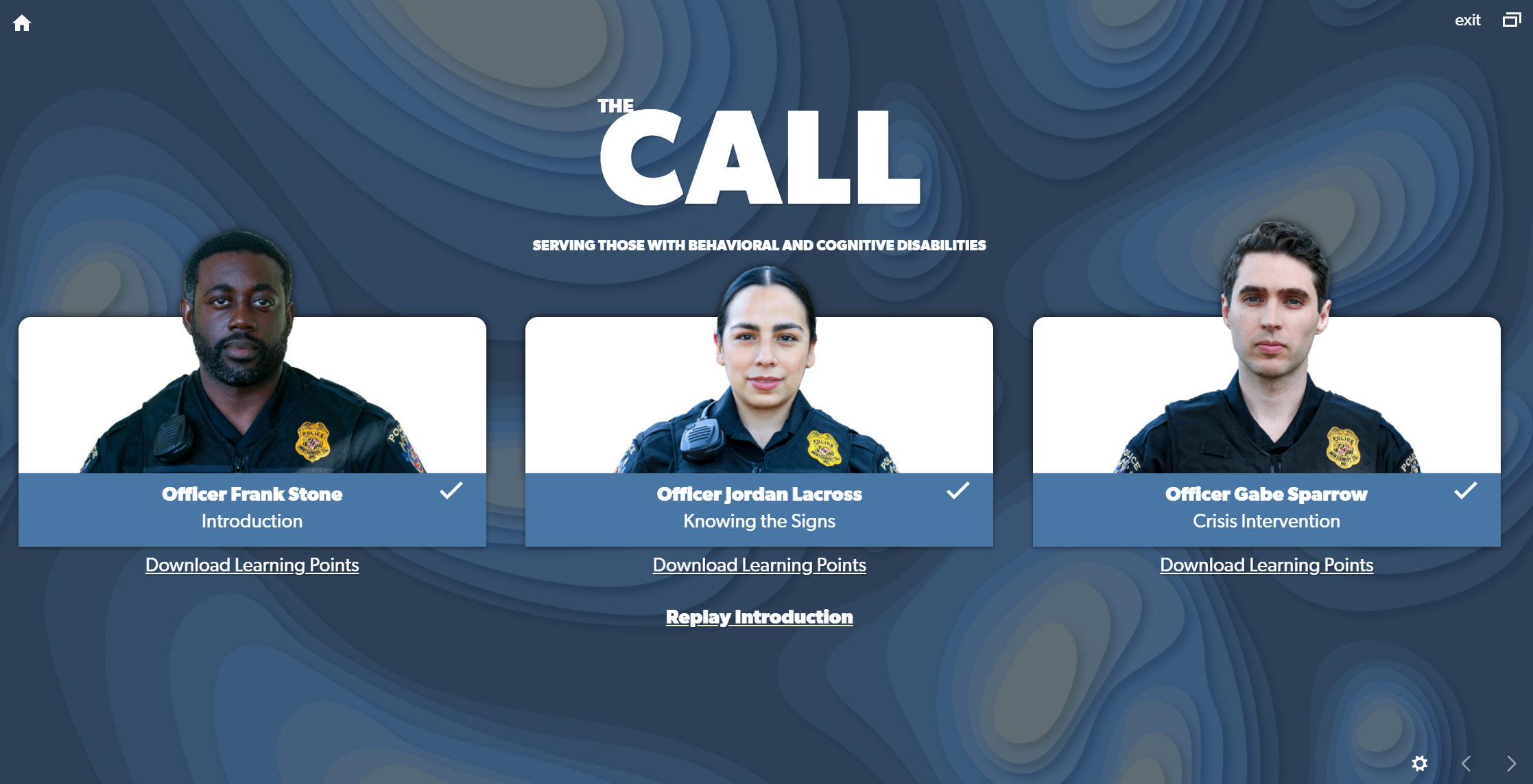 The Call: Serving Those with Behavioral and Cognitive Disabilities continues the advancement of community policing by further enhancing mental illness training for law enforcement professionals through e-learning. This course is a choose-your-own-journey training program where learners assume the role of playable characters in an interactive simulation-based program. Playing as three different officers in three different scenarios, participants experience in real time what it is like to respond to calls involving individuals with cognitive or behavioral conditions that may cause impairment. Each module (Introduction, Knowing the Signs and Crisis Intervention) challenges learners to make quick decisions in response to the situations unfolding in front of them. Learners then experience the consequences of their choices. This course provides all law enforcement professionals, from new officers to seasoned veterans, best practice recommendations from leading experts in the field of mental health awareness and response.
Participants should expect to spend approximately one hour exploring the content and resources in this course.
This tuition-free online training was developed by the World Institute of Leadership and Learning (WILL) and was originally supported by cooperative agreement 2018CKWXK011 by the U.S. Department of Justice, Office of Community Oriented Policing Services (COPS).

Primary Audience
The intended audience is law enforcement personnel.
WILL Interactive is a US-based private company that develops online learning training simulations that confront the challenges facing the military, law enforcement, education, finance and healthcare fields.