After-Action Review and Reporting: An Introduction
This course provides an overview of after-action review and reporting processes, as applied within a law enforcement organization following incidents ranging from common, everyday situations to complex, high-impact, critical incidents.  It is designed for all levels of police practitioners.
COURSE RUN TIME: 1 HOUR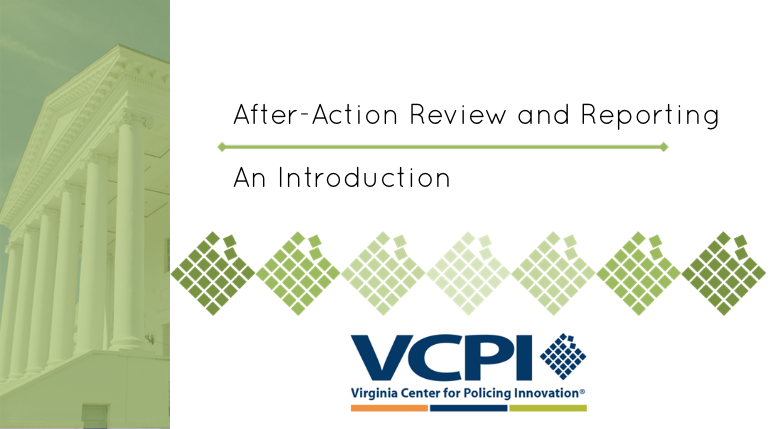 About This Course
This elearning program provides an overview of after-action reviews and their application as an effective organizational learning tool and powerful community policing strategy.
The one-hour course equips law enforcement personnel with the basic understanding of when and in what circumstances an after-action may be best utilized, as well as how to conduct impactful reviews that result in written reports, including guidance on ways to organize, document, and communicate the findings of an after-action review.
The course includes an assortment of multi-media resources which participants can utilize within the course itself, and after they've completed it.
This tuition-free online training was developed by the Virginia Center for Policing Innovation (VCPI) and was supported by cooperative agreement 2015-CK-WX-K003 by the U.S. Department of Justice, Office of Community Oriented Policing Services (COPS).

Primary Audience
Although designed specifically for first line supervisors or officers in charge of conducting/overseeing the after-action process within their department, the program is appropriate for all local, state, and tribal law enforcement personnel, regardless of rank or position.
The Virginia Center for Policing Innovation (VCPI) is a nonprofit organization that provides innovative community policing training, technical assistance, and program management services to law enforcement organizations and the communities they serve throughout the United States.